Do you know about the 7726 Scam Prevention text service?
After a number of conversations with clients on the topic of scams, one of our Advisers decided to kindly pull together some useful information that we think is worth sharing.
This started when discussing with a couple the number of suspicious looking banking or HMRC-related text messages they had received recently. To the more tech-savvy amongst us, especially those that have spent their whole working lives using computers, the typos and spelling mistakes within these sorts of messages are a clear indicator that these are an example of phishing. For those whose lives are a little less engrained in technology though, these sneaky attempts to access your information aren't always so apparent.
Back in 2015, to very little fanfare if I can remember correctly, OfCom teamed up with the Federal Trade Commission to setup a new text message service to help them in their ongoing battle against frauds and scammers. How it works is simple and is explained in the bullet points below.
* You receive a suspicious text that you think might not be all it seems.
* You then forward the message (to do this on an iPhone, hold down on the message and then click 'more' on the menu) to 7726.
* To remember the number easily, it spells 'SPAM' on the old school phone keypad.
* You will then receive an auto-response message that will ask you to then text the mobile number you received the suspicious the text from.
* This number is then logged & added for investigation by the mobile provider, helping to prevent people being caught out in the future.
This works on all UK Mobile Networks and you can also use it to report any suspicious phone calls you receive too. To do this, you simply text the word CALL to 7726, to which they'll ask you for your number again so this too can get logged.
A client we recently told about the 7726 service told us it certainly helped put his mind at ease – our Adviser therefore decided to also give him some pointers on how to spot whether or not a message like this is legitimate or is in fact something a little more sinister.
Generally, your bank or HMRC won't really ever use a text message or an automated voice-recording message as the method to contact you. Fraudsters are clever though, and they're always thinking of new ways to trick you. As people get a little more savvy and aware of the banking and HMRC scams, and what with the frequency of home deliveries skyrocketing since the pandemic, there have been a lot more reports of scammers sending texts purported to be from a delivery driver or a delivery company.
A good general rule of thumb with these messages is to never, in any circumstances, click the hyperlink. If you do think there is a possibility that it could be a genuine message, then do your own independent check. For instance, log into your account on the company website or call the company if you are expecting a parcel.
The biggest give-away is always the website link, here is an example of a fraudulent one we received the other day.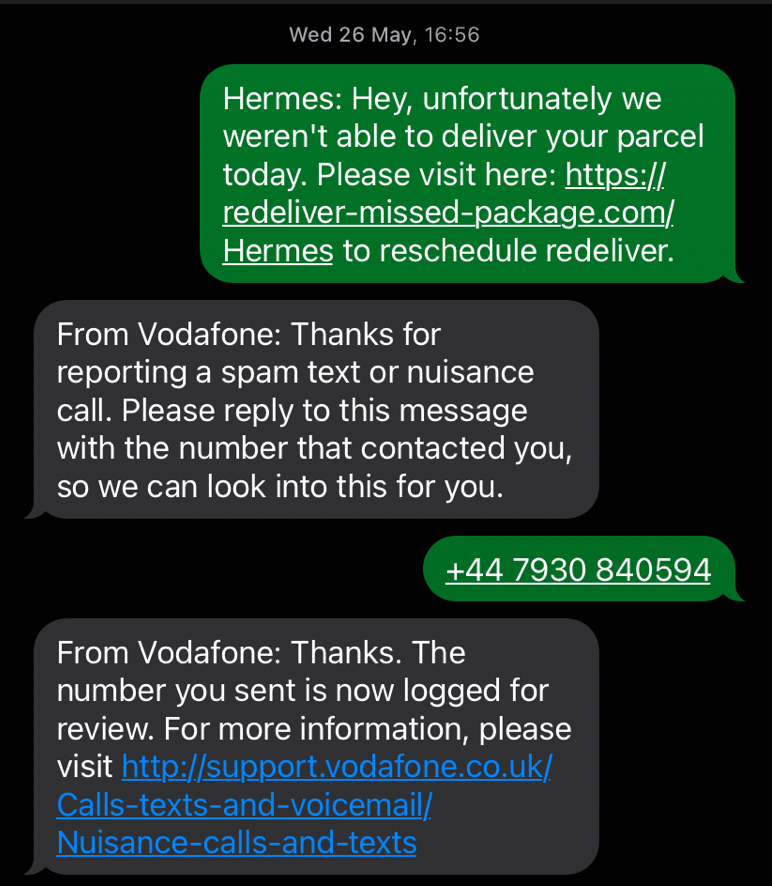 If this message was genuinely from Hermes, the weblink would end with "hermes.com", as it would be part of their website.
The link not including "hermes.com" tells us that this is a link to a website called "redeliver-missed-packages.com" website. A quick Google search tells us that this is a website linked to fraudulent activities. Just because the link does include the word "Hermes" in the link, this does not mean it is legitimate. The fact that Hermes is used after a slash (like so, "/Hermes") simply means that somewhere within the 'redeliver-missed-package.com' website, there is a specific page meant for those tricked into believing this message is from Hermes. It is likely that there will be tons of other pages on there, such as redeliver-missed-packages.com/royalmail, or redeliver-missed-packages.com/fedex, to name a couple.
In this instance, our Adviser was in fact expecting a parcel that day from eBay, so there was every chance that Hermes could have been the delivery service being used – instead of clicking the link though, they went onto the eBay website and got the specific tracking code for the delivery. They then went on the on Hermes website separately to confirm that the message was, as suspected, nonsense.
To read more about the 7726 text message service, follow this link below:
https://www.which.co.uk/consumer-rights/advice/how-to-deal-with-spam-text-messages-axsG54B0mH0H#:~:text=You%20can%20report%20spam%20texts,short%20code%20in%20real%20time.
It was also spoken about on 'Morning Live' on BBC 1 last Tuesday (01/06/2021). Rav from Crimewatch speaks about it at 11mins 20secs here:
https://www.bbc.co.uk/iplayer/episode/m000wnwp/morning-live-series-3-01062021#t=11m20s
*will need a TV licence & BBC account to view.
____
As I said before, scammers are always looking for new, innovative ways to steal your money from you. When it comes to cyber-crime, it always pays to be vigilante. If you're ever unsure whether or not something you've been might be a financial scam, please don't hesitate to get in touch with our office on 01384 390039 and we'll be happy to help put your mind at ease.
____
Thank you to David Hadley for putting the effort in for this post. Dave was recently included in VouchedFor 2021 Top Rated Adviser list and also recently became a Dad, so deserves an extra pat on the back for taking the time out to pull all this information together. Well done Dave, keep up the top work!